Well, this year will forever be known over here in the Burton/Gunn household as "the Year of One More Fuckin' Thing" and I have not a single doubt that with less than a week left before it's over that there will be yet one more fuckin' thing. Having said that this isn't what this list is about. This list is about all of the awesome things that I geeked out over despite "the Year of One More Fuckin' Thing". I'll add to the list as I remember anything else, but for now here are my favorites of 2012:
Shut Up and Play the Hits
Mozart's Sister
Remender's Uncanny X-Force
Martin Short on SNL
Pulp
Marlo Meekins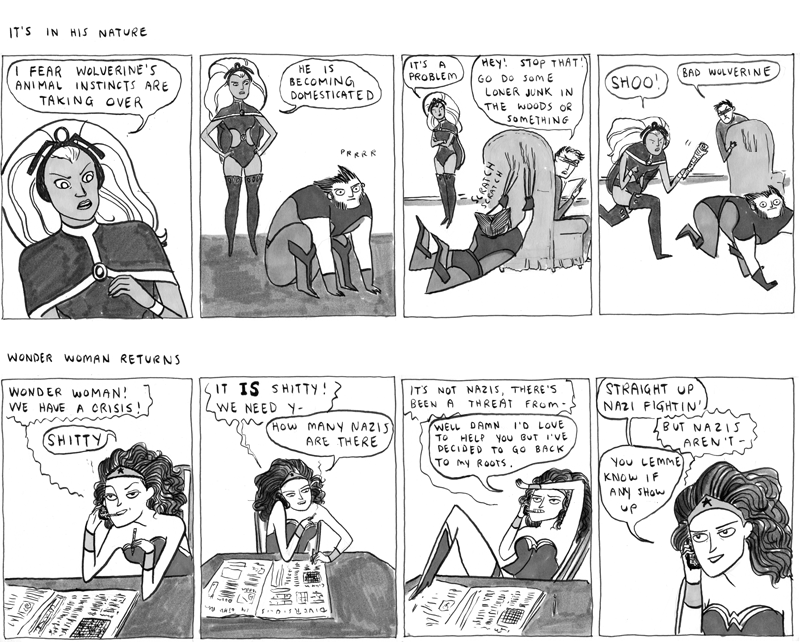 Kate Beaton at D&Q Library
Dan Clowes & Seth at the Ukranian Federation
Rufus Wainwright closing out the Jazz Fest
Sophie moving back to Montreal
The West Wing
Breaking Bad
Mad Men
The League
Louie (especially the Late Show arc featuring David Lynch)
Tig Notaro's Live
Hawkeye
The Avengers movie
Hickman wrapping up his epic Fantastic Four run
The Dirty Projectors - Swing Lo Magellan
The Walking Dead season 3
Phil Noto and Cameron Stewart art on Tumblr
Professor Longhair's Tipitina
The Maple Spring
Moonrise Kingdom
Grimes
Archer
This guy on ChatRoulette - Call Me Maybe
Beasts of the Southern Wild - probably my favorite new movie I've seen in a very long time.
Looper